"This gin rocks!"
– gaz regan, cocktail legend

How our products are consumed is as important to us as how they are made. So, we recruited a team of revered cocktail professionals led by Gary (gaz) Regan, including Leo Robitschek and Jeffery Morganthaler, early on and paired them with our British Master Distiller to help us develop our award winning gin. As you'll soon find out, the result is one lively mix of British Sensibility and American Mischief.
Now Available on ReserveBar.com
Award winning Tod & Vixen's Gins are now
available for delivery straight to your door!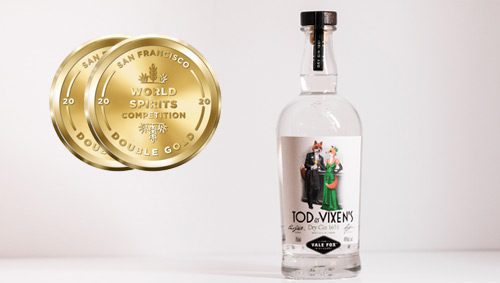 Specifically designed to enhance the flavors of gin cocktails, our award winning inaugural Tod & Vixen's Dry Gin 1651 is made by macerating botanicals — including juniper, angelica root and rooibos tea — to extract their flavors, then non-chill filtering to retain the unearthed profile. The resulting sip is bold on the entry, giving way to a well-balanced, vibrant gin with a weighty mouthfeel.
For fox sake, please enjoy responsibly.
Tod & Vixen continue to make new friends everywhere they go.